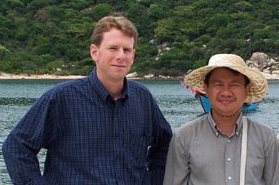 Copyright 2013 Algen Sustainables

James Coke, CPIM
Managing Director



Algen Sustainables
P.O. Box 1605
Gig Harbor, WA 98335 USA



253.851.7200

About Us

Contact:




Mailing Address:





USA Contact:


Nguyen Xuan Vinh
Project Manager



Institute of Tropical Biology
85 Tran Quoc Toan Street, District 3
Ho Chi Minh City, Vietnam



(84) 918 348 908

Contact:




Mailing Address:





Vietnam Contact:


Algen's research program in Vietnam is fully funded with support from the governments of Denmark, the Netherlands, and the USA. We are presently seeking relationships with chemicals companies interested in leveraging our work as part of their plans for expansion in the region.

The company is closely held by the principals and has not to date accepted institutional or fund investment.

Algen in the News